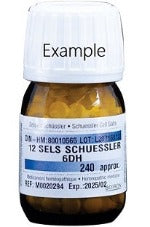 Schuessler Cell Salt Tablets (6X/6DH)
Manufactured by BOIRON Canada.
Traditionally used in homeopathic practice.
These 12 cell salts are Wilhelm Heinrich Schüßler's traditional dilutions of naturally occurring salts. Known as the 12 biochemic cell salts, or tissue salts, they are available in the traditional 6X (6DH) homeopathic dilution. For alternative dilutions, please see our options for custom Homeopathic Pellets.
These tablets are prepared by 6 stages of 1:10 dilution. Each stage of this dilution occurs at a ratio of 1:10 (1 part substance to 9 parts diluent.) The first stage produces the 1X potency from the original substance. The following dilution stages yield 2X, 3X, and so on... until, the classic 6X homeopathic dose is prepared, and formed into small chewable tablets.